The Plesk Control Panel is used in IT Nut Hosting as a Control Panel for Windows Hosting. There are usually 3 types of domains in a control panel.
One is the Main Domain that is used when purchasing a hosting package. The main domain is different from the main domain of CPanel. This main domain can be easily changed which We will let you know in the next post.
Sub-domain can be used as a new domain by adding a prefix before to the domain using any domain. This is called Sub Domain.
Addon Domain is the main domain in a control panel. A different domain can be added as the main domain. That can be added to the domain section is called Addon Domain. Hosting providers determine how many domains or how many addon domains can be added to a package.
Addon Domain works like main Domain. Addon Domain's website files are uploaded to the specified folder under "httpdocsl". Addon Domain works exactly like a domain name and later you can create subdomains for addon domains. As with other Domains, we need to change the nameservers to point it out with our hosting service.
How to add an addon domain
To add addon domain first log in to your Plesk control panel. And click on Add Domain from the "Websites & Domains" section.
Then please use your registered domain and fill up some information like the pictures below. And click on Add Domain button
Select the option Registered domain name
Write down your domain name
Please select webspace
Select your Hosting type
Use your document root
Select your preferred domain type
Now your domain adding process will be started.
Now please wait a moment and you can see after a while your domain is added to Plesk.
Now if the Plesk control panel uses a different nameserver to connect the domain with hosting please use that nameserver on your domain and wait for DNS propagation. DNS propagation can take up to 24 hours to propagate.
Once your nameserver is updated your task is done. now you can do whatever you want with your domain.
How you can manage your nameserver on the IT Nut Hosting client area
What is subdomain
The domain that you want to create from the current domain is called subdomain. The number of sub-domains you can add depends on the hosting package you purchase. It basically acts as the child domain of the current Main Domain (blog.example.com) and you can upload website files to a specific folder under "httpdocs".
How you can make a new subdomain
To do that first log in to your Plesk control panel. And click on Add Subdomain from the "Websites & Domains" section.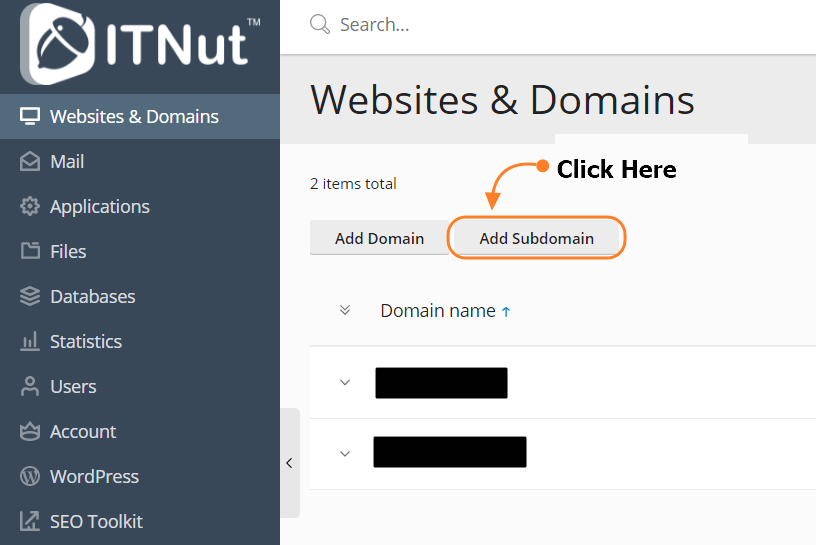 Now write a prefix for your subdomain on the Subdomain name box shown in the picture below. Now select the main domain for which you want to create a subdomain.
In the document root box, you can see the root folder for your domain. Leave it as it is. Click on OK button
Your subdomain creating process is started.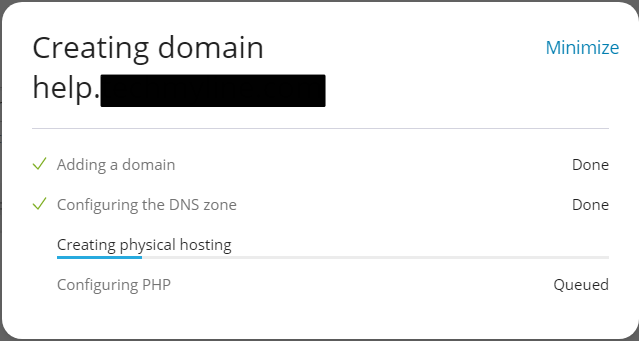 Now please wait a moment your subdomain will be added to Plesk Control Panel. And it will be ready to use.
Your subdomain is ready to use you can now upload your file to use with your subdomain as a website.