You can manage your domain and change Nameservers directly from the client area. To do that follow the steps below: First, Log in to the client area using your login details. Then from the Dashboard click on the "Domains" or you can also click "My Domains" under the Domains section in your left-hand-side menu bar.

You will be taken to a list of the domains that you currently own. Click on the Three Dots button beside your domain name. You can find the Manage Nameservers option located at the drop-down menu. Click "Manage Nameservers"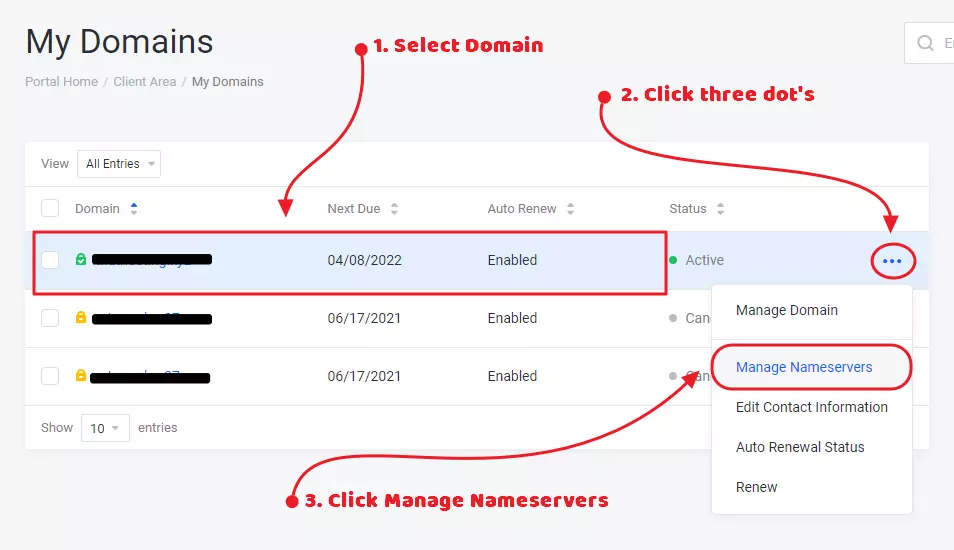 After clicking on the "Manage Nameservers" option, you will be taken to a page like below and you will see two options here:
IT Nut Domain DNS
Select this option if you want to use the domain's default nameservers.
Keep in mind that, If you want to add or edit DNS records as a custom domain in Blogger, you must use the Default Nameserver.
Here are IT Nut Hosting default nameservers:
dns1.itnuthosting.com
dns2.itnuthosting.com
cPanel or Windows Hosting NS
Select this option to connect to our hosting or to use the hosting nameserver. our hosting nameservers are
ns1.itnuthosting.com
ns2.itnuthosting.com
Web Hosting Nameserver
Upcoming.
Use Custom NS (enter below)
If your hosting service is with another provider or you want to use their nameserver or private/custom nameserver and associate your domain with that hosting, select Custom Nameserver. However, you can update the nameserver by selecting this option and typing our name server.
After selecting or entering the nameservers properly, click on the "CHANGE NAMESERVER" button and your nameservers will be saved for your domain. Which you will see through a successful message.
After updating the name server, you can check from the link below:
How to check your domain nameservers?
Check-in intodns
Check-in whois
It is used to set up our hosting for the domain. And the default nameservers are used to manage the DNS directly from the domain management. If you need to set our default nameservers manually, please contact us to know the default nameserver for your domain. And if you are using our hosting nameserver, then you can manage the DNS from that cPanel account.
Please keep in mind that nameserver changes can take up to 24 hours to be fully propagated. So, you might need to wait until the DNS propagation is complete.
What is DNS Propagation?