Reset cPanel password from cPanel login page
Sometimes you may forget the password for your cPanel account and be unable to log in. In this case, you can reset your cPanel password easily with a few steps.
1. Goto your cPanel login URL where it asks for a cPanel username and password.
2. Click on "Reset Password" from the bottom.
3. Enter your cPanel username and click again "Reset Password" button.
4. Now enter your cPanel account's contact mail address and click "Send Security Code." You can also see some hints about your mail account.
5. Collect the security code from your mail. You need to check the inbox & spam box for the security code.
6. Submit the security code and reset your password.
Finally, the cPanel account reset is completed successfully. Now you can log in to your cPanel with your new Password.
Reset Password from the Client Area
You also reset your cPanel Password from IT Nut Hosting's client area. To reset your cPanel Password follow this step:
1. Log in to the Client area and click Services option.
2. Here you will see the list of your hosting packages. Click the three-dot button and then click the View Details option beside the hosting package.
3. Click the change password button from the right side.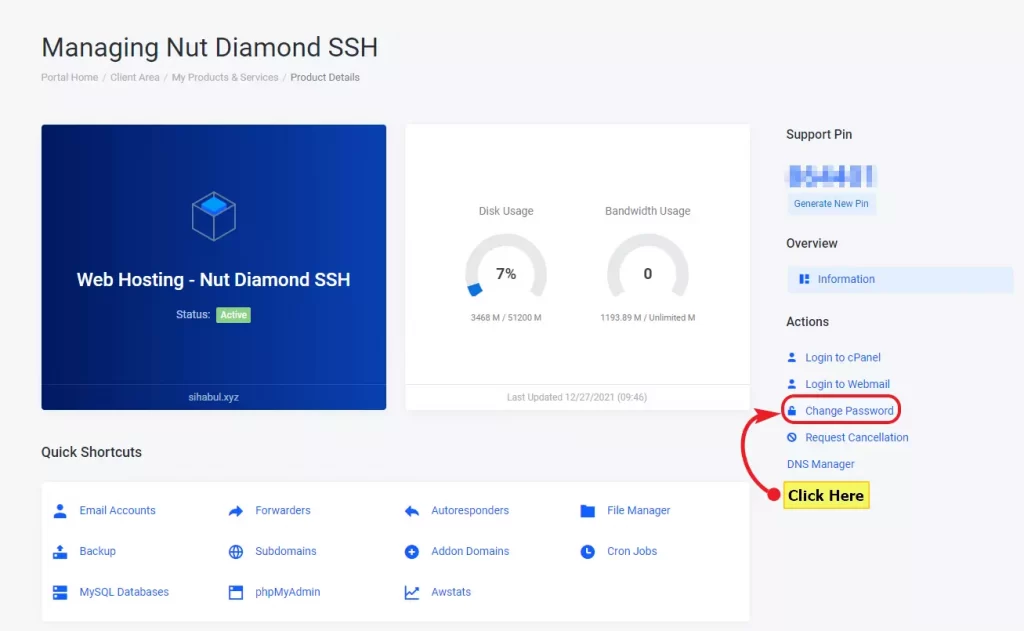 4. Fill in "New Password" & "Confirm New Password" with a strong password. You can use the Password Generator to get a unique and strong password.
5. Finally, click on "Save Change" to set your new cPanel Password.
Now you can log in to your cPanel using a new Password.