Getting in touch with the visitors on your website is a very effective method to get direct customers or regular followers. There are many ways to do it such as engaging in comments, live chat, phone and email. You should try to integrate all of them on your website, but contacting via email is still a popular and effective method. It's true that your visitors can email you directly by an email address, but contacting directly via a contact form is much more effective and user-friendly.
If you are building an email list or answering questions of the customers, a good contact form can dramatically increase the conversion rate. Here, we have compiled a list of 7 best contact form plugins that are used all over the world. This is just a general recommendation based on user experience and usability.
01. WP Forms
If you are just starting with forms, or WordPress in general, then you have a beginner-friendly contact form plugin – WP Forms. It offers many options such as drag and drop builder, file upload feature, user-generated content, hundreds of pre-designed templates and integration with many other services. You can also track the users that leave the form incomplete and gather more leads.
Key Features and Benefits:
Ability to create an unlimited number of forms in just a few minutes without writing any code.
Pre-built form templates that save you time.
WPForms utilizes smart CAPTCHA and Honeypot method to stop spam contact form submissions.
100% responsive and mobile-friendly contact forms.
Geolocation to display location information about your users.
PayPal and Stripe integration for collecting online payments.
AWeber, Campaign Monitor, Drip, GetResponse and MailChimp integration
02. Caldera Forms
Another easy drag and drop form plugin is Caldera forms. You can create dropdown selections, do calculations and add a radio button to your form. They also provide free CDN service and automated database entry tracking. They also offer premium service which comes with integration with many 3rd party websites, fast support, and other features. But the free features should be enough for most of the users.
Key Features and Benefits:
Intuitive user interface!
Easy to use – drag and drop!
Tons of great field types – calculation, dropdown select, radio, file upload
Conditional logic for form fields, processors and auto-responder recipients!
Front-end post submissions and post-editing with the free Caldera Custom Fields add-on
NO LIMITATIONS on the number of forms or fields or submissions!
Unlimited auto-responders!
Anti-spam by default to stop those bots!
Export entries to CSV!
Responsive and accessible by default!
A ton of add-ons to take your forms farther!
Free CDN to improve site speed
03. Ninja Forms
Even if you do not know anything about coding, you can create attractive contact forms with Ninja Forms plugin. You can create unlimited forms, form submissions, and fields with this plugin. It is a freemium plugin, so you can extend the features of this plugin by buying a premium addons such as multi-part forms, file upload functionality, user registration and login forms. Ninja plugin is great for both beginners and developers alike.
Key Features and Benefits:
Basic form builder with easy drag-and-drop form creator.
No Limitations on the number of forms, fields, emails, actions, or submissions that can be included.
Great for marketing efforts – easily connects to MailChimp, Campaign Monitor, AWeber, etc.
Several anti-spam field options including Google reCaptcha, Akismet, question/response fields, and honeypot fields by default.
Form submission via AJAX without page refreshes.
04. Formidable Forms
Formidable Forms comes with many pre-designed templates, ReCaptcha integration, responsive design and autoresponder feature among their other features. This is a GDPR friendly plugin, so those of you who are looking for a plugin to go with your GDPR compliance website, you can choose Formidable forms. You can also add a consent checkbox to agree to the terms and conditions and have multiple form types such as polls, surveys, contact and lead generation.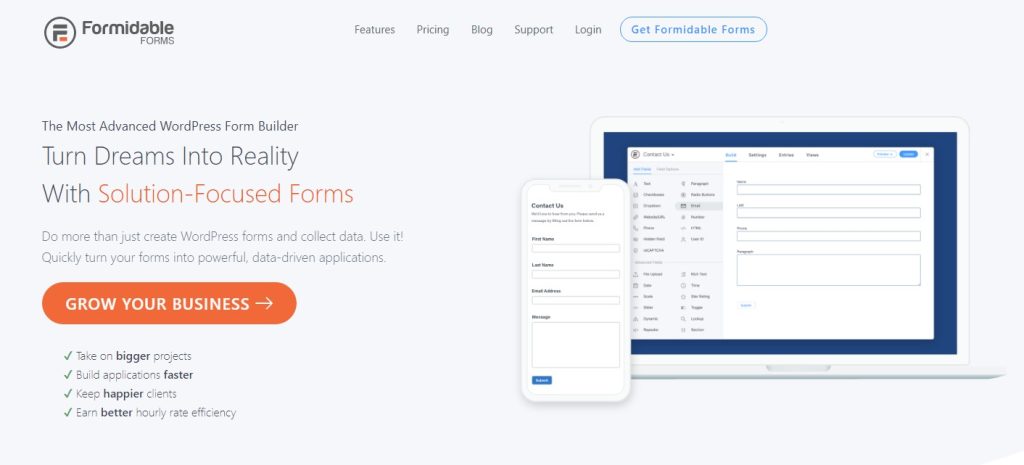 Key Features and Benefits:
Drag and Drop Form Builder – Building complex forms shouldn't be complicated. Drag, drop, and you're done.
Multi-Page Form with Progress Bar – Split complex forms into easily managed multi-page forms that autosave on a page turn.
Email Autoresponders & Notifications – Create customized email notifications to get information on those who need it.
Flexible Form Layout Design – Builds complex, mobile responsive form layouts that look great and fit perfectly with your theme.
Great for marketing efforts – easily connects to MailChimp, Campaign Monitor, AWeber, etc.
05. Jetpack
Jetpack is a swiss army knife of WordPress plugins. It does many tasks for a WordPress website which includes building powerful contact forms. You can set an email address with Jetpack and receive an email notification from them. It integrates easily with the Akismet plugin to prevent spam on the website. Many WordPress users are already using the Jetpack plugin on their website and it adds additional functionality on the website without stuffing the site with more plugins. You can easily add forms to any post or page with this plugin.
Key Features and Benefits:
Brute-force attack protection, spam filtering, and downtime monitoring.
Backups of your entire site, either once daily or in real-time.
Secure login, with optional two-factor authentication.
Malware scanning, code scanning, and automated threat resolution.
A record of every change on your site to simplify troubleshooting.
Fast, priority support from WordPress experts.
06. Gravity Forms
If you are a developer and want to have more control over your contact form, then Gravity form is perfect for you. Gravity form offers many advanced functionalities for more experienced orders. It can be integrated with Dropbox, PayPal, Slack, MailChimp or other 3rd party platforms. They also have a paid plan that you can use to get access to other addons for additional functionality.
Key Features and Benefits:
Ease of Use
Input Fields
Advanced Input Fields
Conditional Logic
3rd Party Integration
Entry Management
Pre-built Templates
Mobile Responsiveness
Spam Filtering
File Upload
Layout Features
Multi-Column Layouts
Documentation & Support
Licensing & Pricing
07. Contact Form 7
Contact Form 7 is a popular contact form plugin with more than 5 million active installations. You can use Ajax-powered submitting, integrate with Akismet spam protection plugin and use Captcha on the form. Contact form 7 is a flexible plugin that lets you modify the form with simple markup. It is a very first plugin for many new users on WordPress and it is justified with their easy to use interface.
Key Features and Benefits:
Super easy to use
Simply drag and drop
No coding required
Speed things up and save your time
Word with visual composer
Now you have a better idea of what feature those plugins offer and what plugin would be best suitable for your situation. All of those are very useful plugins and used extensively by users on all experience levels. It's time to choose a plugin for your specific needs and get started. Let us know if you have any questions or would like to see any other topic on our site in the comment section. If we have missed some good plugins on this shortlist, feel free to let us know in the comment section.