IRTP Transfer Lock Enabled On My Domain, What Should I Do?
New Registration: If you have registered your domain recently, then you will see this message in your domain management section. This is a default transfer lock for a newly registered domain. All newly registered domains are prohibited from transferring within 60 days from the registration date.
Contact Change: If you have made a change to your domain contact Name or Email address, then it will be prohibited from transferring for the next 60 days.
IRTP Transfer lock occurs automatically on those two occasions. It does not hamper your domain usability in anyways. The lock will be automatically removed within 60 days and you do not need to do anything about it.
How To Add ID Protection to my Domain
What Is ID Protection?
ID Protection service is a privacy service for your domain that hides your contact information on the public WHOIS record. It is also called whois guard or domain privacy protection. It is required that you use the correct information on your domain registration. But spammers and marketers can get your contact information from public WHOIS records where all domain registration information is stored. You can use our ID Protection service to hide your contact information from the public WHOIS record. You can see your Domain WHOIS data info from this link.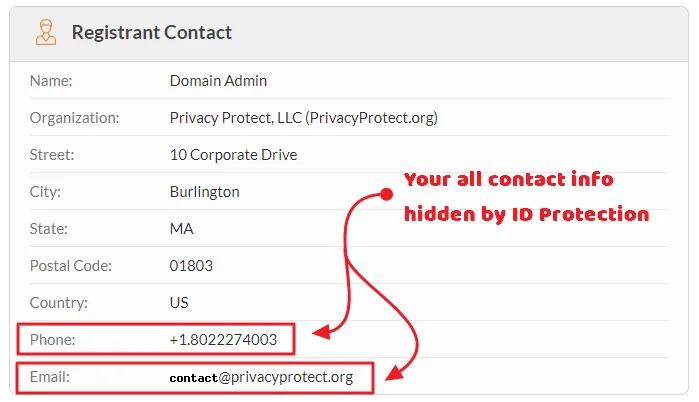 How to Add ID protection To Domain
To buy ID Protection service for your existing domain, please follow these steps:
Log in to the IT Nut Hosting Client Area. Go to the "Domains" section from the dashboard. Or click the My Domains button from the "My Domains" drop-down menu on the left.

2. And then click on the "Manage Domain" button (dot's) to go to the domain management section.
3. From the Domain Management Page, click on "Addons" from the Manage Section on the right-hand side.
4. Here, you can see the ID Protection addon as disabled status. Click on the button saying "Order" for ৳200 BDT or $2.5 USD pricing.
5. From the next page, click on the "Buy Now for ৳200 BDT" button again to confirm the order.
6. You will then be taken to the invoice payment page. Pay the invoice with your favorite payment method and your ID protection service will be activated automatically once the payment is confirmed.
It's a good step to take towards your data protection. Congratulations! The Whois information will now be updated and hidden within 24 hours after the service is active.
How to Remove ID Protection for my Domain?
If you want to remove your domain ID Protection Service, all you have to do is:
First, log in to the Client Area and Go to Domains from the Dashboard.
2. Click the "Manage Domain" (dot's) icon next to the Domain that you want to manage. Then click on the "Addons" tab from the Manage section on the right-hand side.
3. Now click on the "Disable" button on the ID Protection Service to Disable ID protection.
4. Next page click on the "Confirm Cancellation" button.
After you confirm, the ID Protection service will be disabled. Keep in mind that, after disabling the ID Protection service, your domain Whois Contact Information will be visible to the public.
How can I change the contact information of my existing domain?
A domain name is the identity of a website and it has to be bought from a register or a provider. When we buy a domain we have to provide our contact information. It's called WHOIS information. Everyone can see your information from the whois record. If you don't want to show your information, you have to take an addon service which is called ID protection or whois protection. Many times you may need to change the contact details of your domain. In that case, you can do that from the client area or you may have to contact your domain provider to do that. At IT Nut Hosting you can change the contact information of your domain from your client area. Now we will show you step by step how to do that-
First, you have to log in to your client area. If you don't know how to log in to the IT Nut Hosting client area, you can follow this guideline: After login, click the Domains option.
2. Here you will see the list of your domains. Now click on the three-dot button and then click the Edit Contact Information option.
3. On this page, you will see the WHOIS information of your domain. You can change the information that you need. You can also change the information of Registrant Contact, Admin Contact, Tech Contact, and Billing Contact separately.
4. After changing the information click the Save Changes button at the end of the page. Your WHOIS information will change. It can take 24 hours to update the WHOIS information properly.
Now you know the process of changing WHOIS information of a domain. If you need to change any contact information of your domain just follow the process and change that.
Note: You can change whois information in your domain without your email and contact number.
Always use correct and up-to-date details for your domains. Also, keep in mind that, there will be an automatic 60 days IRTP lock if you change domain contacts Full Name or Email this will be gone after 60 days.